Are you planning to go on African safaris or Kenya vacation? Is it one of the bucket list travel destinations  or dream vacation destinations? It ought to be. The African continent has so much to offer. Its breathtaking landscapes, hospitable people, and cultural riches to lovely beaches await you for a thrilling safari adventure. The wildlife and safari way of life, however, is what will have you coming back time and time again. The ambiance, nature & wildlife gets into your blood once you go on your first African safari tour! A trip to Kenya, for instance, will invoke your desire to visit this enchanted continent again & plan for your subsequent African safari tours. Be warned, Kenya in Africa is very addictive for avid travelers!!
There are so many ways to experience an African holiday. Of course, there are a thousand other reasons to visit Africa! But leading tour operators like to tailor their suggestions to your specific likes and interests. For example, you could begin the journey to Kenya. Traveling across Kenya is full of breathtaking scenery on the ground or in the air. 
Besides the prime attraction of game safaris, can you picture yourself on an adventure balloon safari? The views are jaw-dropping, soaring above the Masai Mara in a hot-air balloon at dawn. Gazelles and springboks graze in the immense plains, and giraffes and elephants chomp leaves off acacia trees. En route to the park, what joy it is to come upon a million pink flamingos feeding on algae and frolicking in the waters of Lake Nakuru. Some take flight in a massive "V" formation against a splendid azure sky, adding to the wondrous sight.
After a guided bush walk through Tsavo, one of Kenya's largest national parks, the day's end, you return to your camp, offering the highest standards of luxury and comfort in the wilderness. At Drunken Elephant mara, we know more than a thing or two about comfort. You can count on one of our expert travel consultants to build an itinerary that includes either high-intensity game-viewing or a low-key, more intimate safari experience. Or both.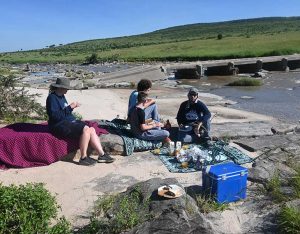 Kenya's protected national parks and community-run conservancies guarantee you will witness a grand spectacle of wildlife. Those traveling during the wildebeest migration are in for an extra special treat. Kenya's brilliant landscapes and varied terrains will never cease to surprise you—maybe you'll catch a glimpse of Mount Kenya's jagged peak striking out through a misty morning! Wind up your Kenya holiday with a few days near Mombasa at a beach with white sand, turquoise blue waters, and a spa treatment or two.
Escape daily with tailor made African safari tours and vacation deals offered by Drunken Elephant Mara. They will take you in the dusty African haze, admiring wondrous animals freely roaming in their natural habitat. Their best Kenya vacation & safari adventure packages, en-suite safari tents, ensuring you enjoy the luxury of home safaris style! Contact Drunken Elephant Mara to plan your African safari tours and explore the best of Kenya.