Kenya is an expansive nation on the eastern coast of Africa, full of diverse cultures and adventures. It is a nation bursting with romance, excitement, and adventure. A pre-planned Kenyan safari tour truly epitomizes the "classic safari."
Going for a safari adventure in Kenya is explicitly one of the top bucket-list items for most avid travelers. If you haven't been on safari, you haven't experienced the rawness of Africa in all its arresting beauty and unexpected drama. The Kenya safari tour could be life-changing for many. Tailor-made safari adventures in Kenya will surely captivate your imagination and change one's perspective.
A safari in Kenya introduces curious tourists to some of the distinctive animals of the African savanna. It let you immerse yourself in the ancient Maasai people, who have preserved much of their indigenous culture. 
A Kenyan safari boasts spectacular natural beauty in one of the most unspoiled places on earth. Additionally, it gives you near encounters with some of Africa's most sought-after species. Any preference will lure you to this continent of Africa! Whether it's a trip with the whole family, an intimate honeymoon, or a photographic safari.
Nairobi National Park
Ever go on a safari just 10 minutes from a busy downtown? You can, just outside Kenya's capital, Nairobi. Amazingly, only minutes from a world-class city, one safari to lions, leopards, rhinos, buffalo, and many more animals roaming in the wild at Nairobi National Park. Hop on an adventure in Nairobi, Kenya's capital city.
Amboseli National Park
Surely, you've heard of Mt. Kilimanjaro, the tallest peak in Africa and the highest free-standing mountain in the world. The great massif will fill your field of vision when visiting Amboseli National Park as it dominates the park's southern border. It let you get the chance to spot cheetahs, families of free-ranging elephants & wildebeest migration. The park is famous for its great population of towering creatures. You're guaranteed to spot them.
The Masai Mara
The most revered of safari destinations in Africa is the Masai Mara. The park is arguably the most well-known in the entire globe! Its name conjures the feeling of great safari expectations. It is renowned for its abundant wildlife and annual Great Migration. On an adventure Kenya safari through Maasai Trails, you can observe lions, leopards, cheetahs, hippos, elephants, crocodiles, giraffes, and other 95 wildlife species in their natural habitat. It's also a place where largest movement of animals happens on the planet, the Great Migration. It is the timeless drama of nature's cycles playing out before us.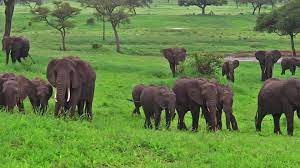 Tsavo West and Tsavo East 
Everything is big at Tsavo West and Tsavo East National Parks. They're the largest wildlife reserve in Kenya. It features all the largest wildlife including the famous "Big Five" (lion, leopard, buffalo, elephant, and rhino). Especially of note is the legendary Tsavo Lions, distinctive with their unusually short manes. The lions were known in times past for their ferocity.
The landscapes also intrigue these two sister parks. You'll find unusual lava formations, unexpected green oases, and red dusty soil. The elephants roll such red dust to give themselves a rogue "makeover".
Kenya's incredible national parks have unimaginable and innumerable sights that you can't wait to discover. Let Safari Seekers take you on a dream excursion to these places which are home to fantastic beasts. They will be happy to make your tailor-made adventures come true!