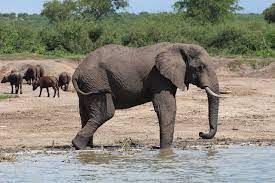 Experience the adventure of a lifetime in the heart of Africa with Kagera Safaris Ltd., your ultimate partner for an extraordinary Uganda Safari. Our deep understanding and expertise in the region promise an unforgettable journey, where you'll be left in awe of Uganda's magnificent natural wonders and abundant wildlife.
Uganda, renowned as the "Pearl of Africa," captivates with its breathtaking beauty, featuring lush rainforests, picturesque landscapes, and stunning savannahs. Within this diverse ecosystem resides a remarkable array of wildlife, including majestic mountain gorillas, chimpanzees, elephants, lions, and countless bird species. With Kagera Safaris Ltd., you'll have the rare opportunity to encounter these awe-inspiring creatures up close, forging memories that will endure forever.
At Kagera Safaris Ltd., we take pride in crafting personalized and tailor-made Uganda Safaris that cater to your specific interests and desires. Whether you're a wildlife enthusiast, a nature lover, or a photography enthusiast, our itineraries will suit your preferences perfectly. Throughout your journey, our experienced and knowledgeable guides will accompany you, ensuring a safe and enriching experience.
A highlight of our Uganda Safari is the trek through the dense jungles of Bwindi Impenetrable National Park, which shelters nearly half of the world's remaining mountain gorillas. Imagine the privilege of observing these gentle giants in their natural habitat, witnessing their intricate social interactions and their awe-inspiring strength and grace. It's a humbling encounter with the marvels of nature.
Another must-visit destination on our Uganda Safari is Queen Elizabeth National Park, an ecosystem teeming with diverse wildlife. Here, you can partake in thrilling game drives, with opportunities to spot freely-roaming elephants, lions, leopards, and buffaloes across the vast savannahs. The park is also famed for its boat safaris along the Kazinga Channel, providing glimpses of hippos, crocodiles, and a multitude of bird species.
For primate enthusiasts, Kibale Forest National Park offers a captivating chance to track chimpanzees. Our expert trackers will lead you through the forest, where you can observe these intelligent creatures as they swing through the trees and go about their daily lives. The park is also a haven for other primates, including red colobus monkeys and L'Hoest's monkeys.
At Kagera Safaris Ltd., we place a strong emphasis on sustainability and responsible tourism. Collaborating closely with local communities and conservation organizations, we ensure that our safaris positively impact both the environment and the people. By choosing to journey with us, you actively contribute to the long-term conservation of Uganda's unique wildlife and ecosystems.
Don't wait any longer. Embark on an extraordinary Uganda Safari with Kagera Safaris Ltd. and immerse yourself in the wonders of this remarkable country. Whether you seek adventure, wildlife encounters, or simply a connection with nature, we have the ideal safari experience awaiting you. Allow us to be your guide as you create memories that will last a lifetime. Contact us today and commence planning your dream Uganda Safari.