Riding horses has been a tradition in Central Park dating back to the park's inception. A private horse ride through Central Park is one of New York's most magical experiences! Are you a first-timer in New York City, or are you a local who wishes to rediscover the City's treasures? Walking through Central Park to explore so many things can be a bit overwhelming! Let the relaxing private horse ride in New York City make your journey through Central Park a wonderful one. Taking on a leisurely trip around Central Park with a private horse ride lets you explore its many bridges, fountains & statues, unique landmarks, including the Imagine Mosaic, the Conservatory Garden, Belvedere Castle, and the Central Park Zoo, and much more.
There is evidence that Central Park was originally intended to be viewed from horseback! During regular park hours, horseback riding is permitted all year. Hiring it with a reliable yet official horse carriage ride provider at Central Park in New York City lets you get the highest level of personal service at every step of your journey. Leading horse carriage riding companies provide you with exceptional New York horse carriage rides and tours of Central Park. With your single call, they can arrange anything for you or your group. They have large horse carriage rides that fit best for your memorable leisure ride, wedding parties, and romantic horse carriage ride for a couple.
Are you on a honeymoon or a leisure family vacation? Don't leave this precious opportunity a chance to experience as a lifetime activity! Hiring a Central Park private horse riding in New York City ahead of time will guarantee you have the perfect time slot without the wait. You will get the opportunity to see beautiful sights in New York City and have a fantastic time while sitting on a private horse-drawn carriage. Among the sights you'll see on your 2.5-mile (4-kilometre) ride are the Lake, Strawberry Fields, Tavern on the Green, Ramsey Play field, Conservatory Water and many more. A private horse-drawn carriage ride through Central Park is available.
Choose a time that is convenient for you, and it may be from morning to night. Avoid long lines during peak seasons by booking online ahead of time! Central Park is 2.5 miles long and one half-mile across. You can hire a short ride consists of approx. 30-40 minutes for a sum of $103, or a long ride consists of approx. 60 minutes for a sum of $149 online in. If your time allows then one to two hours for Central Park private horse riding is good for stopping at a different site, staring, turning around, picture-taking, getting lost, and do much more things well worth your time and money. Set aside a full day's private horse ride in New York City is ideal for achieving the most out of everything Central Park has to offer. Enjoy a leisurely ride without the stress of rushing to meet a deadline!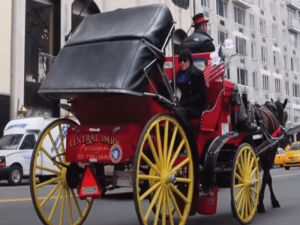 The premier horse carriage rides companies in Central Park keep their private horse ride carriages well-maintained. They provide excellent service to customers during the carriage rides. Apart from that, they give proper training and caring to their horses engaged in the private horse ride at Central Park in New York City. Building relationships between people and horses take much time, and you will feel such a relationship while sitting on a horse carriage. The riders assure you their horses are giving their best effort to win the client's trust every time they trot through New York City.
Central Park Carriages is a licensed private horse carriage ride company working in the local horse & carriage business since 1979. They have the pleasure of sharing their love for horses with people along the beautiful paths of Central Park. To book a ride online in advance, please visit https://www.centralparkcarriages.com/book-now today!