Tsavo East and West National Park are the twin parks that form one of Africa's largest wilderness reserves.  It is the largest park in Kenya and is noted to be one of the largest wildlife sanctuaries on the planet! It preserves its esteemed credits and is known as one of the greatest biodiversity sites in the world. One can get access to the park via the Mombasa – Nairobi road. A well-planned 3 days Tsavo East-West safari is a great way to travel across immense savannah plains dotted with thorn bushes, stands of acacia trees, and limitless forest area.
Planning a few days of Tsavo East-West safari is good enough to fulfill your African safari dream!  Are you dreaming of your magical Kenyan safari but are looking for help to plan it? Plain Wings Tours & Safaris can be the right choice for your search! They offer perfectly tailor-made tours & safari itineraries that take all your wishes and requests into consideration. All your expectations were beyond fulfilled as the well-planned Tsavo East-West safari itinerary lets you explore the pure wilderness that consists of the savannah, hills, forest, and extensive river system.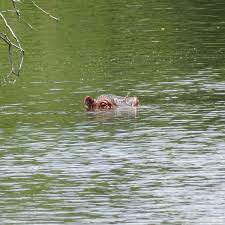 There is no doubt that a safari in the Tsavo East National Park will give you one of the most incredible travel experiences of your life. Tsavo East NP feels wild and undiscovered, and its vast open spaces are truly mesmerizing. Its wilderness is home to most safari animals. Although wildlife densities aren't large still spotting the animals is always expedient here due to the lack of vegetation. Excellent wildlife viewing, including the African Big Five, excellent birding viewing, exploring the beautiful landscape, scenic landmarks like the Galana river and Taita Hills, and much more are the prime features of Tsavo East-West safari. All such things attract travelers all year round.
The rolling topography of Tsavo East-West National Park amazes you in its dream-like state and lets you uncover the varied ecological and historical treasures. Tsavo East and West can be visited throughout the year, but the best time for your 3 days of Tsavo East-West safari is from June to October.  It is pretty close to Mombasa, which makes the wildlife area a popular place for travelers to search for the big five and 500 different wildlife species. Your authentic wilderness three days Tsavo East-West safari to East Africa lets you explore the majestic Tsavo East National Park together with Tsavo West National Park.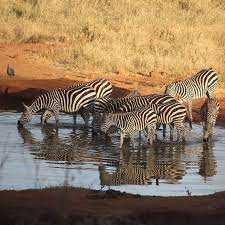 Tsavo East-West National Park is vast and wild, and the main area explored on your days is the Tsavo East-West safari. It offers excellent wildlife viewing in its pristine wilderness. The Big Five (African elephant, lion, leopard, Cape buffalo, rhinoceros), crocodile, waterbuck, lesser kudu, and gerenuk are all present here. The big cats, man-eating lions are most easily spotted here. Other species you might expect to encounter are buffalo, zebra, and plenty of Masai giraffes. Tsavo East is home to a diverse array of rare antelope. The fringe-eared oryx can only be seen here in Tsavo East areas. It is also known to be the place for some of the largest safari elephant herds in the world.  So, elephants are common, and their red dust coating makes them stand out against the arid environment. The well-planned safari will let you get close to the red Elephants and spend more time observing and photographing them.
Both Tsavo East and Tsavo West are geared for mainstream mass safari tourism! Are you looking for peace and quiet 3 days Tsavo East-West safari while you're in Mombasa? Contact Plain Wings Tours & Safaris today to make the best Tsavo East-West safari itinerary for you based on your need.