Safari in Masai Mara is an excellent decision for individuals who need to be close to nature without losing comfort. Do you want to hire some tented safari lodges to explore your passion for safari adventure? Are you an adventure traveler or nature enthusiast seeking to get close to nature with a knowledgeable and qualified safari guide? Having one of the best-tented safari lodges in Masai Mara from reputed tour operators makes things easy! It will give more conveniences to travelers that wish to come close to nature without losing the budget. Here you are assured of getting the best service & hospitality as you get in a lavished hotel. You can request to add tented safari lodges or tented camps to be included in your safari itinerary, and they'll make it happen!
Motives to add tented camps in your safari itinerary
Do you want to experience the wild beauty of Masai Mara from very close up? A tented safari lodge camp is an excellent option to stay within nature. It will take you far away from the city and offer a physical retreat for vacationers who wish to partake in the natural wonders & raw greatness of Masai Mara. It could be a budget-friendly alternative to a brick & mortar lodge. You're likely to find everything beneath the canvas roof of tented safari lodges. It may be in a comfortable bed with a private bathroom, electrical outlets to charge your cameras, books to read, the best food, sound, and all the facilities you expect. Leading tented safari lodges in Masai Mara come with the services of a very talented personal chef. It's safe to say that tented safari lodges in Masai Mara offer up a greater variety of foods than you'll find on a conventional camping safari.
The sophisticated tented safari lodges come forward with a stylish interior to enhance guests' sense of privacy and enjoyment. The tented safari camp provides an authentic dosage of African wildlife, delivered with legendary Kenyan hospitality and a contemporary safari feel. The spacious guest areas invite the guests to relax, unwind and enjoy the world's most extraordinary views. The tented safaris camps in Masai Mara combine some of the richest Big Five viewing on the planet. You will encounter the iconic wildlife in the form of a lion, leopard, big African elephants, zebra, giraffe, vast herds of wildebeest stretch as far as the eyes can see, and with the diverse ecosystems comes a variety of birdlife. In addition, the tented safaris allow you to go for bush walks, night drives with guides, and bush dining under a starry sky.
What will be the expectation from tented safari lodges & camps?
Almost every national park in Kenya offers numerous tented safari lodges within the park boundaries, such as Drunken Elephant Mara in the Masai Mara's Siana Conservancy, while others are on the very fringes of the park. Staying in a tented safari camp could be one of the best & favorite safari experiences for every traveller. You will enjoy a refreshing bath after your safari, enjoy the sunset over the savannah, have some delicious dinner while sitting near a crackling campfire, and listen to the sounds of Wildebeest drifting across the plains. Sleeping in tented safari lodges while hearing the thundering roars of lions, birds tweeting, hyenas chuckling, and the untamed hours of darkness can be a loving safari experiences that you found only in Kenya. Sleeping in the wilderness encircled by nature can be a precious memory that you will cherish forever.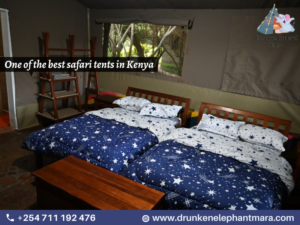 The Drunken Elephant Mara is an owner-run modest safari tented camp in Maasai Mara's Siana Conservancy that offers you exceptional tented safari lodges for a more fabulous safari experience. You can have all modern amenities staying in their tents and love the hospitality they offer. Are you interested in an East African safari or any safari in Kenya? Contact one of their safari experts at +254 711 192 476, and they will tailor-make a tented safari for you!
Find Us Online
View other locations where Drunken Elephant Mara has been mentioned online
Directory ToGoTo, Russian Business Direct, Find Pros Online, Ad Local Pages, Buskalocal, Osogbo Business Directory, Wevo Global, spotspan, Local Business Directory, Local Business Directory, Citiwaka, Biz2action, Builders Grid, Dealerbaba, Askmap, Worldtravelserver, Lacartes, Brownbook, StartUs & TechDirectory